Discover Nanaimo
Nanaimo - The Harbour City 
Stretched like a long, lean finger along the east coast of south- central Vancouver Island, British Columbia's sixth- largest city gets its identity, history and wealth recreation from a lovely, island- sheltered harbour right in the heart of town. Hiking, boating, kayaking, biking, and world class scuba diving and snorkeling are everyday activities at the bustling waterfront, as seaplanes take flights from sparkling blue waters.
Today, Nanaimo is a fast growing urban centre that is no longer merely premier gateway to Vancouver Island. A boldly revitalized downtown core, delightful harbour front walkway, sparkling new museum, affordable art galleries, and a wealth of cool shopping and dining alternatives are good reasons to park the car, find accommodation and stay awhile. 

Climate & Weather 
Nanaimo's weather is great! Environment Canada consistently recognizes Nanaimo as one of the mildest climate regions in the nation, for its above-zero temperatures through fall and winter, and comfortably warm weather in spring and summer.
Nanaimo's coldest months, between November and February, typically have daytime high temperatures in the 6 to 9 degrees Celsius range, and lows of about 0 to 2 degrees Celsius. The summer months between June and September have average daytime highs in the mid-20s Celsius, and lows of about 10. With dependable temperatures like that eight months of the year, it's no surprise that Environment Canada has taken notice.
Nanaimo's rainy season reaches its peak in November and December, months where the city averages more than 170 millimetres of rain. Precipitation falls off slowly through late winter and spring, and reaches its low point in July and August, when there is typically less than 30 millimetres of rainfall per month.
Nanaimo's short snow season peaks in late December and January, with an average of five snowfalls totaling 30 centimetres in each month.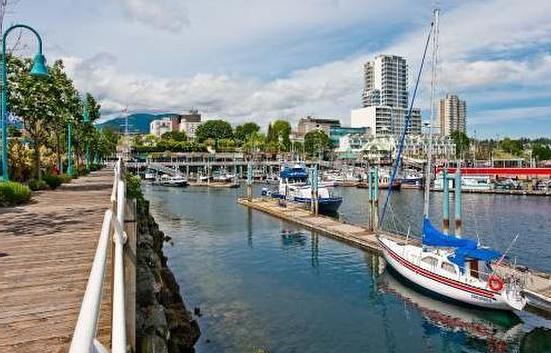 Business in Nanaimo 
In the last five years Nanaimo has undergone a major transformation, with strong growth in most sectors of the economy. Growth in part is driven by population increase; in the last census Nanaimo acquired 5,692 net new citizens, this represents a 7.8% increase since the previous census.
Nanaimo has a diversified economy of more than 5400 businesses. Some of Nanaimo's largest sectors by business license holders include construction, retail, government & education, knowledge-based companies, tourism, arts & culture, professional, scientific and technical sectors. Nanaimo's central location has helped the city develop as an important retail, service, and transportation centre for central and northern Vancouver Island. Nanaimo serves a trade area of over 350,000 people.  Click on the link below to view the entire Community Profile.
LINKS 
Nanaimo, BC Business Directory
Connect businesses in Nanaimo, BC that will provide the best service and will exceed your expectations.
City if Nanaimo - Interactive Map
Welcome to the City of Nanaimo's open access web map. View property information, zoning, parks, and more on our interactive map.
Explore the Beautiful Nanaimo. Here is the top things to See & Do in Nanaimo.
Nanaimo has vast tracts of green space – by the water, in the hills, and everywhere on between. See below for the most complete list of Nanaimo parks, hikes, and places that are just plain interesting.
WorkSafeBC is dedicated to promoting workplace health and safety for the workers and employers of this province. The organization consults with and educates employers and workers and enforce the Occupational Health and Safety Regulation.